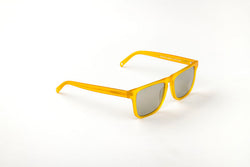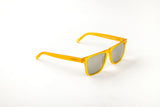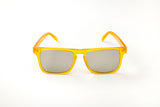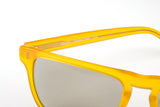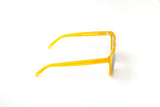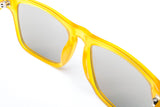 Inspired by our family's award winning honey business - Mikolich Honey, based in Temecula, CA. The only thing sweeter than this frosted honey acetate is watching the morning fog burn off from the shores of La Jolla. 
What makes them even more delightful is the higher VLT (Visible Light Transmission) lenses. These sunglasses are the perfect pair of shades for low light conditions, whether its cloudy morning walks on the beach or afternoon margaritas.
Every pair is shipped with a bottle of Mikolich Honey. Send us a picture of you and the family at the little Italy Farmers Market in San Diego and Bisous will give you half off your next pair!
Check out Mikolich Honey here
https://www.mikolichhoney.com/
These are size 154mm which is 9mm wider than our size 146. For those who are looking for and enjoy a wider frame - this is for you. Not sure if you want the 146 or 154? We will send you both to try on! These sunglasses are incredibly lightweight and designed with all day comfort in mind 
This product is also backed by our replacement program - lose or break them for any reason and we replace them for $65. (if you catch Jonas @iwearbisous while he's at the sandbar with a cold drink in hand he may not even charge you)