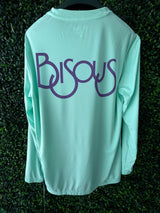 Long Sleeve Yach-Tee - Sea Foam
We talk a lot about blocking UV rays from those pretty eyes of yours, with all the time we spend outside we figured it was time to extend that protection to the shirts you wear. These are as good as sun protection gets (and looks, for that matter). They are UPF50, blocking 97% of the suns harmful rays so that you can spend more time telling people about your sunglasses and less time re applying sunscreen.

This fabric is pretty high tech - super breathable and softer than that bottle of Aloe Vera gel you used on your last sun burn.

UV Protection only applies to areas covered by the fabrics.